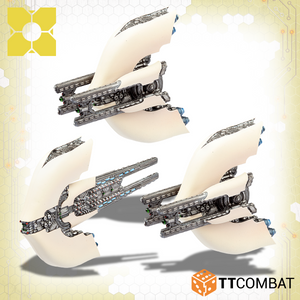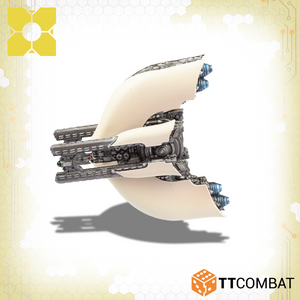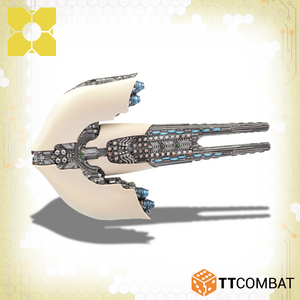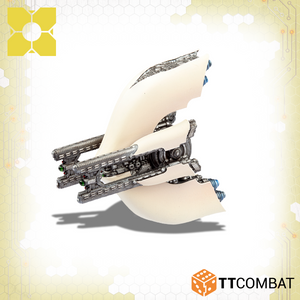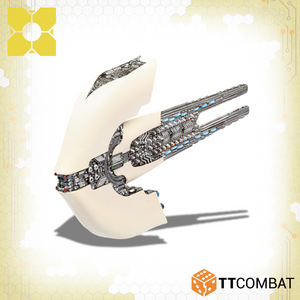 The general performance profile of a typical defence monitors fits the PHR well – that of high armour and low speed.
The Castor, much like its Colonial opposite number - the Istanbul - features heavy calibre mass drivers, able to lay down considerable cross-orbital defensive fire. Its vertical hull is quite unusual for a PHR ship, and allows these weapons to pivot around a central arc.
Although based on the Castor class monitor's superstructure, the Pollux is officially classified as an escort frigate, due to its mission profile. This class was designed exclusively for close-protection missions around bulky, high value targets, where its low speed would still be sufficient to keep up. The Pollux excels at this mission through extensive point-defence arrays – enough to make it extremely difficult for any strike craft or close action attacks to get through.
This set contains 3 PHR Monitors. These small ships are slow moving, and struggle to manoeuvre, but make up for that by targeting between Low and High Orbit without penalty, and having unparalleled armour for that size of ship.
This pack makes three ships, buildable as either Castor class Monitors or Pollux class Escort Frigates. The Castor's Quad Battery is incredibly dangerous, outputting 4 shots that can double when the small ship goes Weapons Free. The Pollux has very limited offensive capabilities, but brings a massive Aegis (7), which makes it the premiere escort in the PHR fleet.
Contains 3 resin miniatures with parts to assemble two variants, and 3 plastic Dropfleet Commander bases and flight stands.
Resin miniatures supplied unpainted and unassembled. This kit will require cleaning and assembly, and could need some small holes filled.