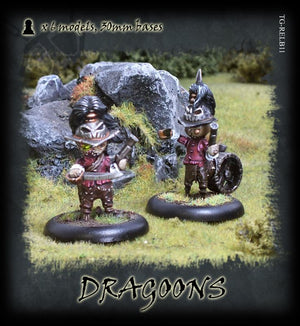 The replacement of his mounted forces was a personal challenge for King Jorje as he had loved nothing more than seeing his troops and their noble steeds charging around the battlefield, providing support where needed.
The look of the Dragoon was a happy coincidence. When King Jorje was trying to perfect the puppet horses, his throne room was scattered with numerous failed attempts. A Guard rushing in to give the King a message tripped over one of the reject designs and became entangled in the mess. When the Guard finally managed to stand up the King quickly ran over with needle and thread, stitching and laughing manically. The end result is what now charges around the Britanan Empire.
With the fastest movement of Britanan?s current armed forces and their skill with the carbine, the Dragoon is the perfect combination of lightly armed cavalry with the speed of horses, specializing in hit and run tactics to keep them out of range of any enemy foolish enough to try and catch them.
Miniatures require assembly and painting. Painting materials are not included. Not suitable for children under 3 years due to small parts and pointed components