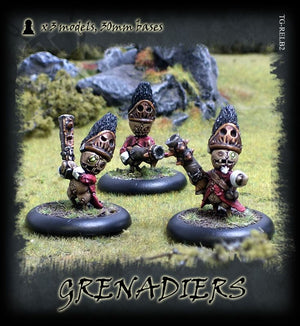 Larger, more imposing and elite than its common Trooper brethren, the Britanan Grenadier form up into units that are designed to stop the enemy from hanging back and forcing them to try and close on you. Armed with the powerful grenade launcher, the Britanan Grenadier can fire a barrage of devastating blasts to soften hordes of enemies one minute before switching to a more accurate mode of fire to finish of the survivors.
The Britanan Grenadiers are not just about the grenade launcher though. If they get to charge the enemy then the effect of those grenades can be devastation as they throw them into the ensuing melee.
King Jorje has created a killing machine that works up close or from afar. The enemies of Britanan should be glad the Britanan Grenadier isn't as easy to manufacture as its lesser comrades.
Pack contains 3 multipart pewter miniatures. Miniatures require assembly and painting. Painting materials are not included. Not suitable for children under 3 years due to small parts and pointed components