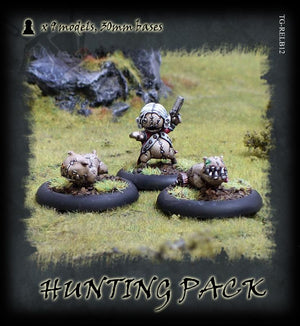 Throughout history the humans of Relicia have had a mutually beneficial relationship with various beasts of burden, since before the arrival of the gods even. Of these beasts, none have been more adored than the faithful attack hounds of old Britanna.
When the Vaettir unleashed their Great Collapse upon the world, the bulk of the hunting packs were already deployed on various missions and their hounds and masters alike were decimated in an instant by the overwhelming surge of Maaj. Barely a handful of hounds survived the attack and then only because they were within range of the hastily built shields constructed on the orders of the King.
Hunt Master Jakob petitioned King Jorje and presented him with a solid argument for the rebuilding of the Hunting Packs. The King listened intently to Jakobs plan and after examining his designs he readily approved their creation.
Miniatures require assembly and painting. Painting materials are not included. Not suitable for children under 3 years due to small parts and pointed components