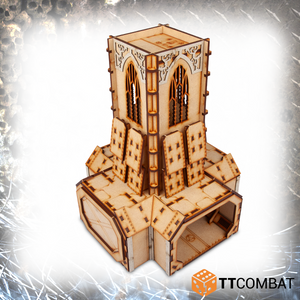 ***LAST CHANCE TO BUY! ONCE THIS IS OUT OF STOCK, IT'S GONE FOREVER!***
While the fortified bunker system is 99.99% impregnable it does have its flaws, surveying the battlefield from height is difficult when your bunkers are ground level. To solve this our top engineers added a tower to a cross section, providing you with a convenient junction and viewing tower for all your bunker networks.
The Fortified Bunker Tower is designed to work with all our Fortified Bunker sections, as well as our Fortified Trench sections, providing you with a whole bunch of options with which to make an expansive bunker system.
Made from 3mm MDF and 1mm greyboard, the kits are easy to put together and look great on the tabletop.
Models supplied unpainted and requires assembly. We advise using PVA glue for the best results.
WIDTH
DEPTH
HEIGHT
Dimensions
19cm
19cm
26cm
Scale
28-32mm
Instructions
Download