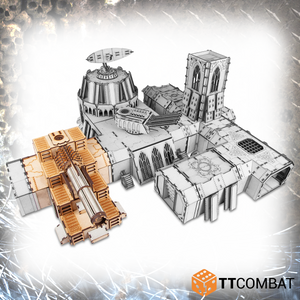 Mecharium Decimator Cannon
***LAST CHANCE TO BUY! ONCE THIS IS OUT OF STOCK, IT'S GONE FOREVER!***
The forefront of offensive bunker emplacements. This baby can take out anything, even orbiting space ships. Just ignore the fact it has a non-existent firing arc.
Designed to work in tandem with our Fortified Bunker range, the Mecharium Decimator Cannon is an imposing front line fortification piece. Featuring a removable gun platform and matching the width of our other fortified rooms this kit will look great as a front-line defence of a critical location.
This kit is made from 3mm MDF, easy to put together and looks great on the tabletop. Great scenery to use with modern and futuristic 28-35mm wargames.
Model supplied unpainted and requires assembly. We advise using PVA glue for the best results. Any miniatures are for scale only and not included.
WIDTH
DEPTH
HEIGHT
Dimensions
24cm
30cm
20cm
Instructions
Download