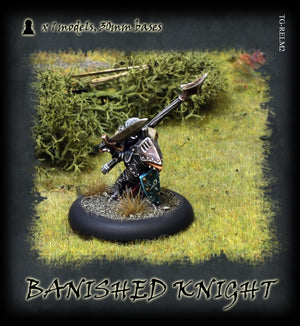 Birds are generally held in high regard amongst the Ridendean noble folk but the Kapolop and its closest cousins are seen to be almost divine and therefore deserving of only a noble or natural demise. The untimely death of such a majestic creature is considered to be an omen of impending doom; one which can only be appeased by banishing the Knight responsible for the Kapolops well being . From the accounts I have heard thus far it seems that there is almost never any malicious intent towards the Kapolop on the Knights part and their deaths outside of battle are mostly caused by blind ignorance and freakish accidents. It is sad to think that so many of the banished wander the lands lonely, shouldering the burden of a guilt that is not justifiably theirs to carry.
Knights dishonoured in such a way will set out alone into the wilds of Relicia on a glory seeking quest of redemption, marketing themselves as swords for hire to any and all who will accept them. Although banished Knights will always attempt to illicit payment for their services they are not strictly sell swords and will often align themselves with forces based purely on the opportunities available to win fame and glory, providing the cause is considered noble of course. The naive hope for redemption is what drives the banished and they live every moment only for the chance to somehow undo their exile.
A pack of one Mercenary Banished Knight. 
Miniatures require assembly and painting. Painting materials are not included. Not suitable for children under 3 years due to small parts and pointed components. We recommend this product for experience gamers and modellers of 14 years and above.