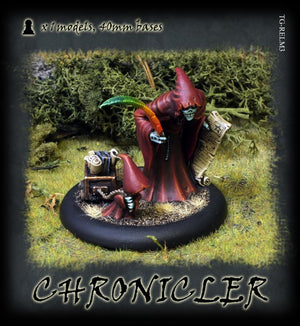 Of the countless worlds I have explored on my eternal quest for knowledge, none have been more fascinating than the strange lands of Relicia.
Relicia is a world on the brink of destruction, a damned forsaken planet where the cruel and the wicked prosper, where the puppet soldiers of a mad king march endlessly to war, where the clockwork suited monks of an enslaved people seek to avenge those who betrayed them so long ago while creatures descended from noble origins rot and fade into obscurity and nothingness.
I am the Chronicler Dammeus, this world as I see it is not my own.
A pack of one Mercenary Chronicler.
Miniatures require assembly and painting. Painting materials are not included. Not suitable for children under 3 years due to small parts and pointed components. We recommend this product for experience gamers and modellers of 14 years and above.