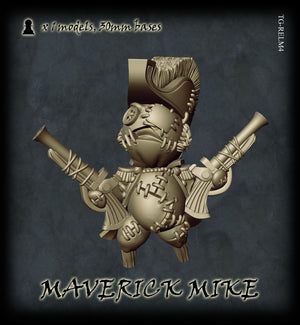 After a short jaunt through basic training Mike's position was elevated considerably when he was appointed to an elite unit within the Britanan army where he was schooled to ultimately become a Company Sergeant Major. Mike excelled in all manner of warfare and was highly decorated; an anomaly in the reject system. What baffled his creators the most though was the strict level of discipline he was able to inspire in his underlings. All was going well for Mike until one day he was faced with a reality that would force him to question his loyalty to his King.
Faced with certain death beneath the crushing wheels of a Nuem Equitum, Mike ordered his troupe to retreat despite the desperate cries from his superiors to hold fast. Annoyed at the humans blatant disregard for his comrades safety; Mike ordered the Company to fire on their own men.
Such an event was unprecedented and tales of the rebellion quickly spread throughout Unglandan and beyond. Although many who heard the yarn were quick to dismiss it as nothing more than fanciful nonsense, the alarming frequency of sightings of Mike and his Troupe began to worry many.
A pack of one Maverick Mike. 
Miniatures require assembly and painting. Painting materials are not included. Not suitable for children under 3 years due to small parts and pointed components. We recommend this product for experience gamers and modellers of 14 years and above.