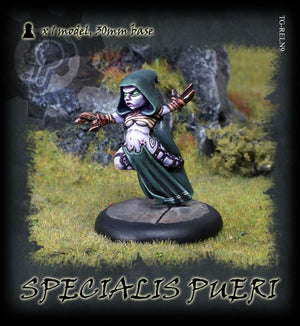 Those gifted individuals who are able to gain the esteemed rank of Specialis Pueri are in a unique division outside of the normal chain of command and take their orders directly from the blessed child, whom they are in constant communication with. It is obvious from an early age if a novice might one day prove to be talented enough to become a member of the elite guild and the selection process is conducted over a number of years and involves a great number of different trials. Those elite few who are ultimately selected for the final trial must have certain specific qualities present in order to have any hope of succeeding; it is a painstakingly brutal test of endurance that only the toughest will survive.
To even catch the eye of the elders of the guild, one must have at least already shown some initial initiative when manipulating the forces of magic to their will; this is an essential skill for the Specialis Pueri and is a vital part of many Nuem battle formations. It is to be noted though that the source of their magic is not to be found in the Maaj which other creatures of Relicia often dabble with for their own crude schemes, instead it is a much rawer and darker energy found within the Mord shards which the Specialis Pueri, among others are able to draw upon to feed their twisted desires.
A pack of 1 Model, 1 Magic Counter.
Miniatures require assembly and painting. Painting materials are not included. Not suitable for children under 3 years due to small parts and pointed components