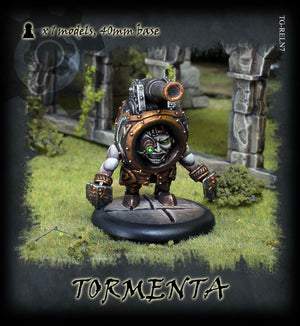 It is a cruel and terrible suffering that one must endure to join the ranks of the Tormenta, the sacrament of the cleansing of the eternal fire to be precise. Candidates selected to receive the blessing of the flame are chosen for their zealousness to the cause and for their ability to successfully transfer their agony to those around them. Eventually they are taught the necessary skills needed to unlock the gifts of the Tormenta suits and they quickly learn the best methods with which to amplify their torment so that others might enjoy their suffering. This is a lesson that comes much later however and one which is only gifted once successful candidates have survived the cleansing of the flame.
During the cleansing those who wish to attempt the trial are stripped of the outer shells of their pain suits and are led into the furnace of Menta, a huge brass structure in the shape of an ancient animal deity. It has only a small entrance on its side and once all of the candidates are inside, the hatch is bolted shut and the flames of the furnace are lit. Within seconds the heat inside the Menta becomes unbearable and most will collapse and be suffocated by the noxious fumes of their own burning flesh, the filthy smoke which bellows out from the nostrils of the beast wreaks of death and scorched meat, sickening all who are witness to it and is accompanied by the terrible cries of agony that can be heard resonating from within.
A pack of 1 Model, 1 Pain Counter.
Miniatures require assembly and painting. Painting materials are not included. Not suitable for children under 3 years due to small parts and pointed components