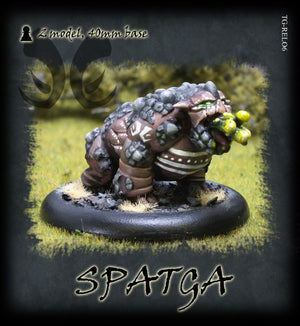 Due to the mutation that has warped their mouths, the Spatga are forced to constantly dribble and drool a venom their glands naturally produce. This powerful venom is so strong that it is able to rot the ground as easily as it burns away flesh; it is a terrible curse to be bitten by a Spatga for sure. What is most terrifying is theirability to project the contents of their stomachs towards their enemies in the same manner as the Britanans might fire a gun and the cunning Orcnar have learnt how to exploit this ability to its full spectacular potential.
Preceding a battle, the Spatga are force fed as much meat as they can possibly consume without collapsing so that their bellies are fully bloated and ready for war. The lurching Spatga are then coaxed towards their enemies, often retching involuntarily as they advance, the sickly acid bile constantly boiling furiously in their stomachs.
When an enemy is within range the Spatga will vomit their deadly poison towards them often maliciously aiming for the eyes of their opponents so that they might blind them and make them easier to pursue should they miraculously survive the blast. More often than not though, the unfortunate enemy will find themselves incapacitated and stuck to the spot when struck by the Spatga, covered in thick tar that will painfully strip their flesh away making them easy prey for the ravenous Orcnar.
Orcnar Spatga – A pack of 2 Models and 1 Pain counter
Miniatures require assembly and painting. Painting materials are not included. Not suitable for children under 3 years due to small parts and pointed components