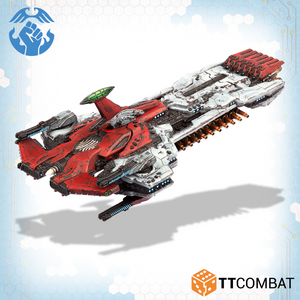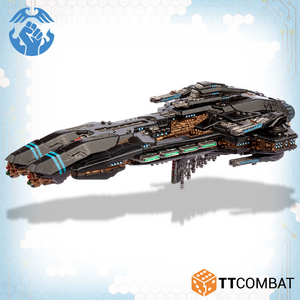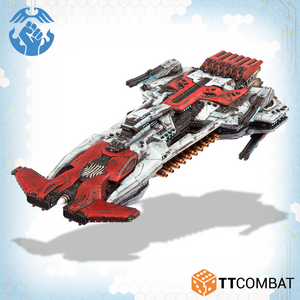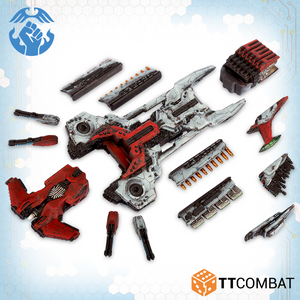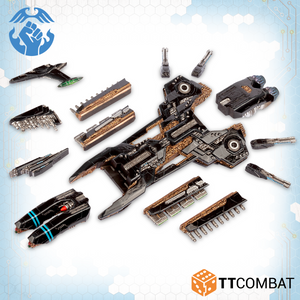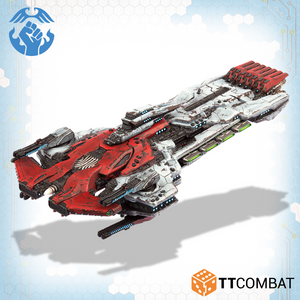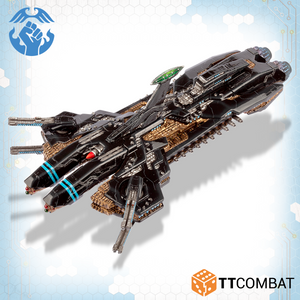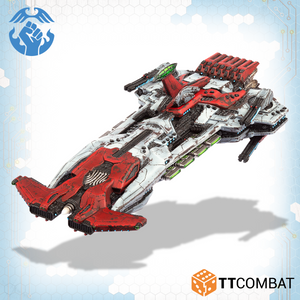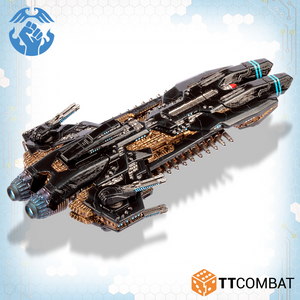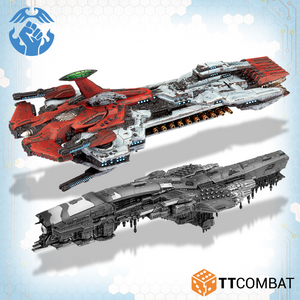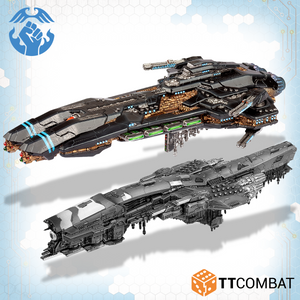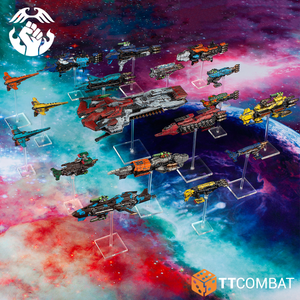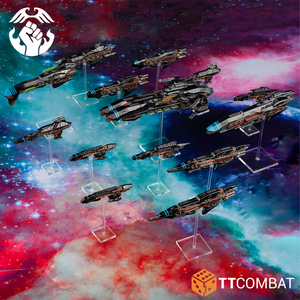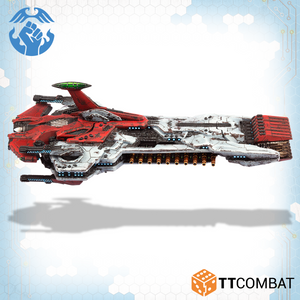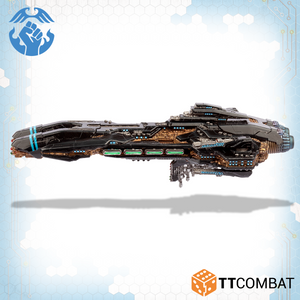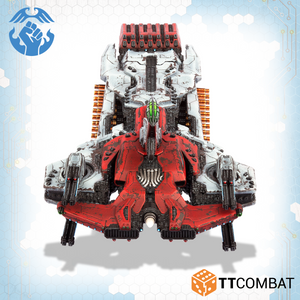 Resistance Trident Battleship
Grand battleships are smaller precursors to modern dreadnoughts. Pre-war, they were the largest fighting vessels in mankind's arsenal. Exorbitantly costly and ultimately white elephants, they were held back from frontline engagements too often to capitalise on their prodigious firepower and incredible durability. However, this has allowed several to survive to the present day.

The oldest design was the Trident, produced exclusively in its namesake's yards by Trident Industrial. It mounts broadsides of the largest chemically fired guns ever built. Though primitive, they have negligible power consumption, making these ships surprisingly flexible in combat. The oldest of these ships had eight more of these mounted on turrets, but were generally refitted with newer Titanmetall 9K twin mass divers long before the Scourge invasion. Topping off this impressive armament is a single torpedo tube with an internal magazine sufficient for four of these ship-killing munitions.

The Olympus class grand battleships share several characteristics with the more common Trident class. They feature four enormous twin mass driver turrets, a large torpedo launch capacity and almost legendary toughness. Initially, the Olympus class was developed alongside the Trident. However, it was a low production experimental test bed for a new weapons system: the vent cannon. This was the first vessel to feature these unstable yet devastating energy weapons, and it paid the price in several catastrophic accidents. Kalium focused considerable effort into vent cannon technology, given its potency and their disregard for the lives of individuals.
This set contains 1 Resistance Battleship, able to be built as either a Trident or Olympus. With loads of extra parts and a modular design, this massive ship can be built in over 4000 different combinations!
The main hull can be built either front-heavy or rear-heavy, and you have a choice of two different engine blocks and two different prows. With all of this variation you can build a chunky front with a hammerhead in the classic pre-war style (known as the Trident or Olympus), or a rear-heavy catamaran style double turret reminiscent of later designs adopted by Kalium (frequently referred to as an Elysium or Eden build).
In addition to the two different sets of broadsides, the kit comes with three different keel and cockpit sections, which can be placed in three places around the ship. All are multi-purpose, which means no two Battleships need be the same.
The Trident design of ship mounts colossal batteries of Artillery Cannons. These Low Power weapons can be fired in addition to any others, so even on Standard Order you can fire two Mass Driver Turrets and the full broadsides.

The Olympus class meanwhile trades reliability for all-out damage with two batteries of Mega Vent Cannons. Lots of Attack, Damage, and the ability to Overcharge makes these very formidable weapons, although watch out for how Unstable they are!
Contains 1 multi-part resin miniature able to be assembled in two variants (with loads of different combinations), and a plastic Dropfleet Commander base and flight stand.
Resin miniature supplied unpainted and unassembled. This kit will require cleaning and assembly, and could need some small holes filled.