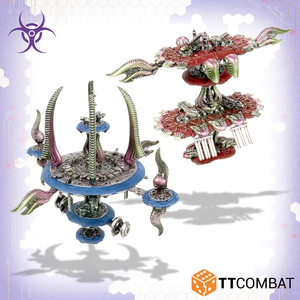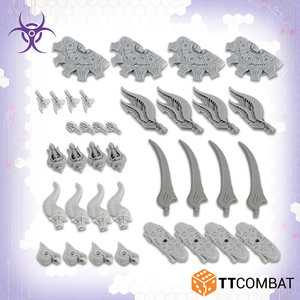 No human settlement is safe from the encroaching Scourge, whether planetside or in space. The vile alien parasites will take over by force, turning the area into a hive of activity to support their continuing expansion. Parts of a space station will remain untouched, the Scourge either abandoning them or using them for their machinations, and others will receive modifications to better suit the needs of the creatures. Almost organic looking growths emerge, changing the very foundations of the station until it looks like a twisted version of its previous existence.
This set contains a lot of conversion parts for your Modular Space Stations. This resin upgrade kit will allow you to change your space stations to be under Scourge control. There are parts included that will fit on the already versatile Modular Space Station Pack, affording you almost unlimited potential to create warped, alien stations.
While you can make rather small Scourge Space Stations with this set alone (you'll need some extra bases though), it is an upgrade set designed to be used alongside the Modular Space Stations.
Contains 36 resin parts. Contents may vary from those shown.
Resin miniatures supplied unpainted and unassembled. This kit will require cleaning and assembly, and could need some small holes filled. Other ships and gaming mats are for scale purposes only.