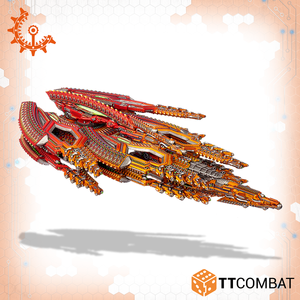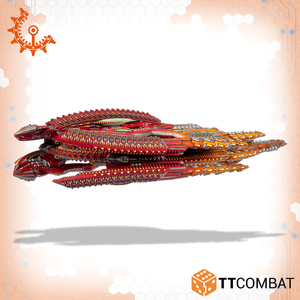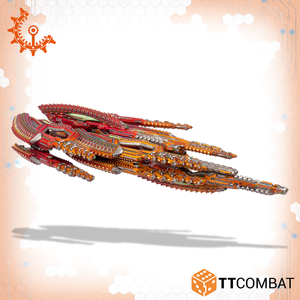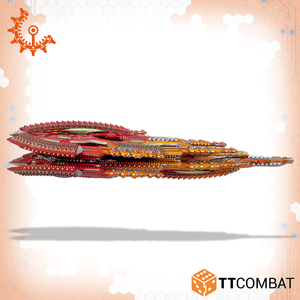 Over 1600 meters long, Dreadnoughts are the largest vessels utilised by the enigmatic Shaltari. Records are sketchy though, as they are incredibly rare and opponents seldom survive an encounter with one. This lethality comes from incredible firepower, shields and peerless scanners. Their captains can wage entire campaigns personally with minimal support. The Plutonium class features a plethora of eldritch weapons, devastatingly flexible in combat. The Uranium is supremely aggressive, attracting the most warlike Starchiefs, desiring the honour and satisfaction of close range slaughter.
Introducing the biggest ships that Dropfleet Commander has ever seen. Although the Shaltari Dreadnought is the smallest of the Dreadnoughts, measuring 175mm in length, it is the most complex of all! Featuring a mirrored and intricate design, it fits perfectly with the rest of a Shaltari fleet.
This set includes parts to make either the Shaltari Plutonium class or the Shaltari Uranium class Dreadnought. With either Distortion Cannons or the 6 Attack Pulse Ioniser Battery (that's double the size of the one on the Mercury), both ships also come with a Launch capacity for for FOUR Gates.
Rules for Dreadnoughts can be found in Battle for Earth.
Resin miniature supplied unpainted and unassembled with a multi-part plastic base. Note that this is an advanced modelling kit and may need small gaps filling and pieces gently heated and bent to fit.