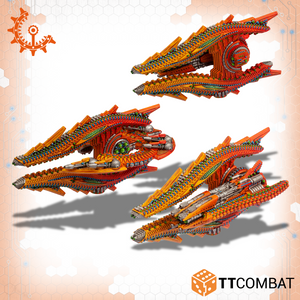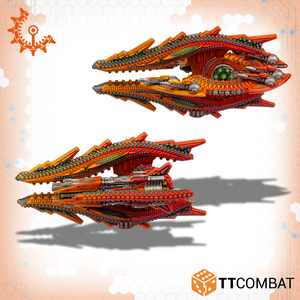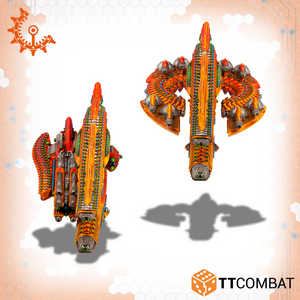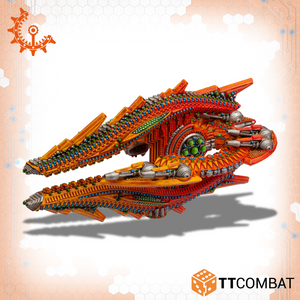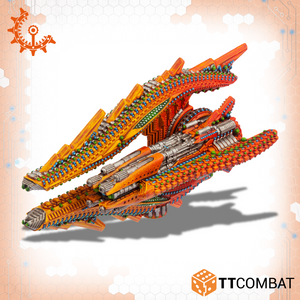 Much as with the Scourge, monitors are an unusual fit in Shaltari fleets, due to their low speed and consequent lack of finesse. Instead, Shaltari types fulfil a rearguard role.
The most frequently seen is the Silicon class, armed with a quad-bank of tilt-able ion cannons, giant versions of those commonly found on Kukri grav-tanks. While these effectively damage ships in higher orbital layers, their true value is in disrupting the power systems of larger ships.
Most Shaltari ground forces reach the surface via Voidgates - ubiquitous, unglamorous ships. Voidgates tend to be lightly armoured and unarmed, making them easy targets. However, sometimes the Shaltari need to guarantee landings planetside, so rely on heavier ships. The Selenium class is one such vessel. It has the transference capacity of a Voidgate, and guns designed to fire out of atmosphere at starships. This allows the Selenium to defend the ground troops deployed through it.
This set contains 3 Shaltari Monitors. These small ships are slow moving, and struggle to manoeuvre, but make up for that by targeting between Low and High Orbit without penalty, and having unparalleled armour for that size of ship.
This pack makes three ships, buildable as either Silicon class Monitors or Selenium class Escort Frigates. The Silicon's Quad Ion Cannon is a high powered weapon in itself, but also causes Energy Surges to enemy ships. The Selenium answers the prayers of Shaltari players, giving a Voidgate with heavy armour (for Shaltari) that also has great offensive capability across orbital layers.
Contains 3 resin miniatures with parts to assemble two variants, and 3 plastic Dropfleet Commander bases and flight stands.
Resin miniatures supplied unpainted and unassembled. This kit will require cleaning and assembly, and could need some small holes filled.