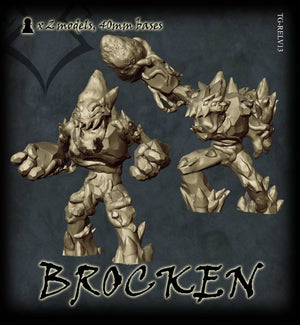 The earth twists and cracks wherever they pass as the primal energies of the Maaj creep to the surface and seep upwards from beneath the crust of Relicia, yearning to re-connect with the same raw energy that pulses through the grotesque bodies of the Brocken.
The enemies of the Vaettir have learnt that the Brocken are not an element to be overlooked when designating targets and many Britanan and Nuem commanders make their elimination the highest priority. All too often their feeble attempts at shooting them down from afar do little more than annoy the earthy Brocken and they are still able to reach their destination and administer their justice upon their foes, shaking off wounds along the way that would stop less hardy Vaettir dead in their tracks.
A pack of two Vaettir Brocken.
Miniatures require assembly and painting. Painting materials are not included. Not suitable for children under 3 years due to small parts and pointed components