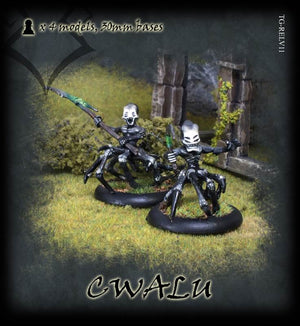 The Cwalu are formidable opponents at any time of day and are masters at exploiting the shadows to their full advantage, they will use any given opportunity to swing the fight in their favour by manipulating the hidden sickly strands of its dark energies.
The Cwalu are an impressive sight on the battlefields of Relicia, cloaked in shadows that flutter on the wind, they race towards their enemies wreaking their vengeance and terrifying all who gaze upon them.
In battle, the favoured weapon of the Cwalu is the scythe. Not only is it a fittingly appropriate tool for their grim purpose but it is also a symbolic token of their passionate desire to reap the souls of all who would dare to challenge the supremacy of the Vaettir.
Miniatures require assembly and painting. Painting materials are not included. Not suitable for children under 3 years due to small parts and pointed components