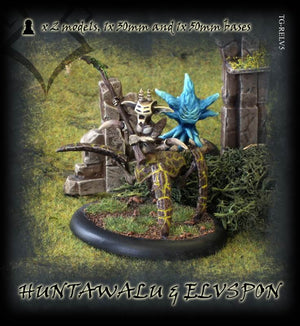 Vaettir Huntawalu & Elvspon
Before the Collapse the Huntawalu were an elite sect of mighty sorcerers, powerful even by the exceptionally high standards of the Vaettir. They were gifted in all aspects of the Maaj and they travelled the kingdoms of the Vaettir freely offering their guidance to anyone who would care to hear it.
After the Collapse they emerged from the shadows as tainted, horrific reflections of their former selves. The Huntawalu have discovered that alongside their physical deformities they can now also see the world in a wide array of different spectrums and their understanding of the Maaj has grown greater than ever before.
They stalk the land seeking their vengeance on the peoples of Relicia who they hold responsible for their demise, blinded by their own arrogance they are unable to realise that it was their own meddling which brought about their doom. Quick to unleash their furious anger upon their enemies, they have become natural leaders amongst the shattered Vaettir and they lead them forth into battle with unrivalled passion.
Miniatures require assembly and painting. Painting materials are not included. Not suitable for children under 3 years due to small parts and pointed components