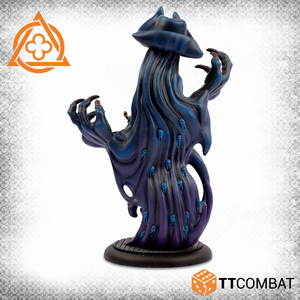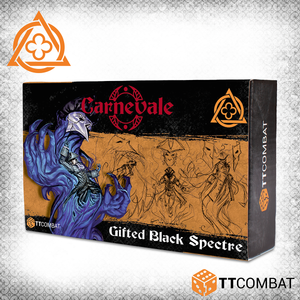 Mario Petralone was a Venetian-born Nobleman. That is until he was caught in Florence during the appearance of the Rent in the Sky. He did not perish in that moment, but existed in a space between realms. Driven by grief and rage Mario possessed his own son. He grew into inky tendrils, completely overwhelming the young man as they speared into his eyes, nose, and throat. The effect was swift and lethal and the incorporeal noble gained control over his form, anchored to the anguish of his last remaining family member.
This set contains Black Spectre, a Gifted for hire. Able to drift through buildings, he can fly wherever he wishes, and drain the life from his opponents. With penetrative Spectral Touch and the ability to Stun opponents, very few will be safe from his grasp. Make no mistake: Black Spectre is one of the most powerful characters in all of Carnevale.
Black Spectre is a Gifted character, which means he can join the Commedia dell'Arte to make a full gang. But as a Gifted, he can also be taken in any other faction, providing some real heavy hitting and surprising agility for such a massive model!
Contains 1 resin miniature and 1 plastic base. Cobblestone base pictured not included.
Resin miniatures supplied unpainted and unassembled. This kit will require cleaning and assembly, and could need some small holes filled.