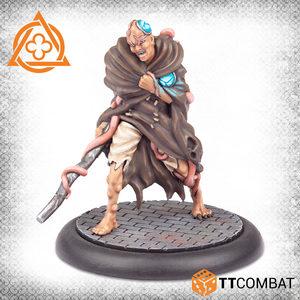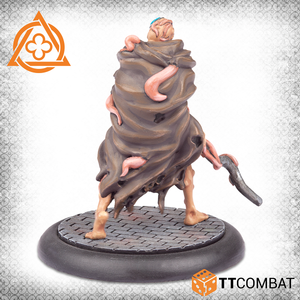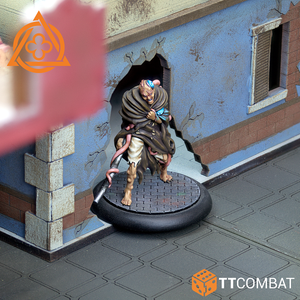 The Ospedale San Servolo is a terrifying place for the residents of Venice. The idea of being sent there is akin to a death sentence. The Doctors help residents as best as possible, but anyone too far gone is relocated, and rarely seen again. For the safety of everyone, of course.

Furthermore, rumours abound of the experiments done on the island. All unsubstantiated of course, but there is talk of a few individuals who have escaped. Tales are that they are barely people anymore, hiding horrors beneath their torn straitjackets. Only the bravest would seek these individuals out, more often than not they are simply seen in the dark, offering brief alliances for their own purposes.
This set contains an Escaped Madman. Fresh from San Servolo, the Escaped Madman has emerged from the other side of the lagoon a changed person. Hidden under the robes are masses of tentacles and glowing orbs that are overloading with power. It's not a great look!
In battle an Escaped Madman provides some hard-hitting combat ability, with the bonus of randomly exploding! A tough character, he'll mostly be unfazed, but be careful when using Will Points: once he runs out, he detonates in a magical blast, damaging anyone close by. Although after the overload, his gems recharge, allowing him to do it all over again!
Contains 1 resin miniature and 1 plastic base. Cobblestone base pictured not included.
Resin miniatures supplied unpainted and unassembled. This kit will require cleaning and assembly, and could need some small holes filled.