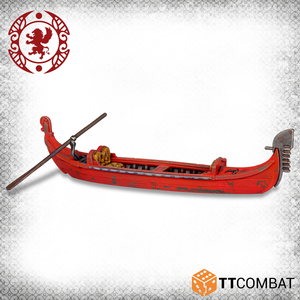 La biondina in gondoéta. La biondina in gondoeta l'altra sera gò menà dal piasser ea povareta la s'à in bota indormensà.
Traversing the streets of Venice is dangerous, but the canals are the fastest way across town, even with the beasts that lurk underneath the water.
This highly detailed resin gondola is reminiscent of the ones that populate the canals of Venice. The vessel has been specially designed for gaming though, with flat surfaces that will support two miniatures on 30mm bases, or one miniature on a 40mm base.
The kit also comes with three resin gondola poles, complete with small bases. They can be put anywhere in your canals, offering perfect small obstacles for jumping between in your games of Carnevale.
Resin miniatures supplied unpainted and unassembled. This kit will require cleaning and assembly, and could need some small holes filled.