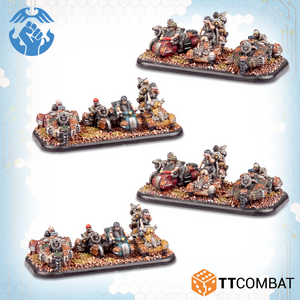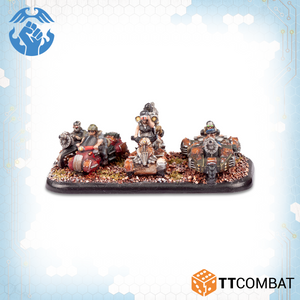 Attack ATVs (All Terrain Vehicles) encompass anything from quad bikes to all terrain mobility vehicles; resistance fighters don't care what it was, as long as they can strap a grenade launcher to it and drive at high speed towards the enemy.
Attack ATVs form a strange role in a Resistance army. Infantry that can't enter Garrisons, but move crazy fast! Armed with Grenade Launchers, they have a choice of Assault Grenades or Incendiary Grenades each round. One is good against light vehicles, and the other can deal with entrenched infantry, clearing the way for your troops to swoop in and steal the Objectives away!

Contains 12 single-piece resin miniatures with 4 plastic bases to make 4 units.
Resin miniatures supplied unpainted and unassembled. This kit will require cleaning and assembly, and could need some small holes filled. Any miniatures or scenery are shown for scale only and not included.