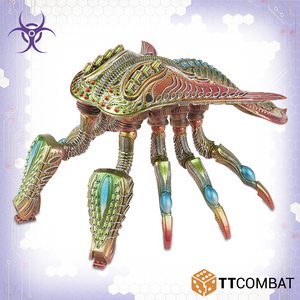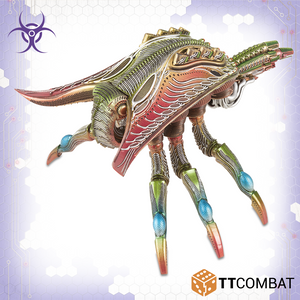 Scourge Punisher Light Behemoth
These Behemoths bear more than a passing resemblance to the smaller Oppressor, although they upgrade to walking on eight legs instead of six. Though still fast, this makes the Scourge Light Behemoth somewhat slower than the heavy-limbed Heavy.
The Punisher is unleashed by the Scourge when they care little for collateral damage. Its forelegs are a pair of hive-like structures that can carry a range of munitions, from explosive pods, to Razorworms. Its tail houses a Quake Bombard, a weapon capable of shaking buildings right down to their foundations.
The Persecutor is the anti-behemoth variant. It is armed with an underslung Plasma Destructor - one of the most powerful plasma weapons the Scourge have comitted to conflict. Backing up this mighty weapon are hull mounted Heavy Plasma Cannons, they themselves are capable of turning armour into molten puddles.
Contains 18 single-piece resin miniatures with 6 plastic bases to make 6 units of Razorworms and 1 multi-part resin miniature with parts to assemble as either a Punisher Terror-Mech or a Persecutor Terror-Mech.
Resin miniatures supplied unpainted and unassembled. This kit will require cleaning and assembly, and could need some small holes filled. Any miniatures or scenery are shown for scale only and not included.
Please note that Behemoths are massive kits, and advanced modelling projects. Extra care, attention, and hobby skills will be required to assemble and paint them. Because of that, this kit it is only recommended for advanced modellers. Some parts will need heating and bending to fit perfectly straight and slight gaps might need filling.