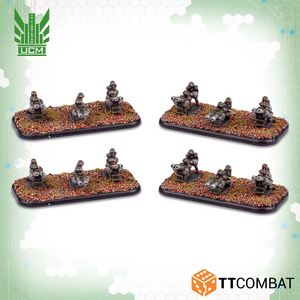 Time and again combined arms have been a winning formula on the battlefield. The UCM AA team compliments standard legionnaires, upping the defensive capabilities of the infantry, often saving them from bombing runs.
The UCM's combined arms approach is super beneficial in-game. With Flak AA Teams as an Exotic choice, you've got an option for decent (if not ground-breaking) anti-air fire all through your Frontline Battlegroup. Their mobile defensive setup also includes Active Countermeasures, which means they're some of the only Infantry that are protected from long-ranged firepower - even more annoying for your opponent!

Contains 12 single-piece resin miniatures with 4 plastic bases to make 4 units.
Resin miniatures supplied unpainted and unassembled. This kit will require cleaning and assembly, and could need some small holes filled. Any miniatures or scenery are shown for scale only and not included.