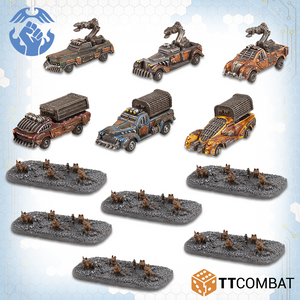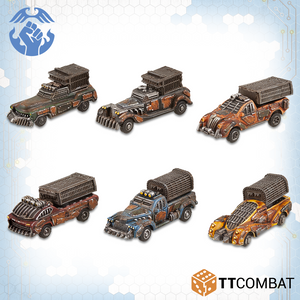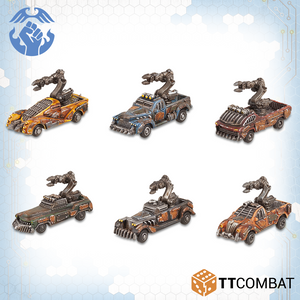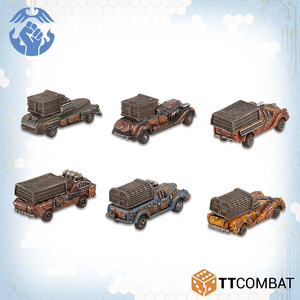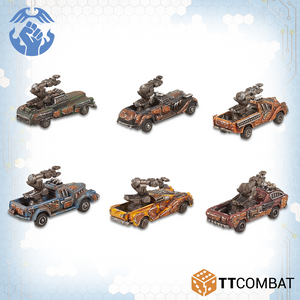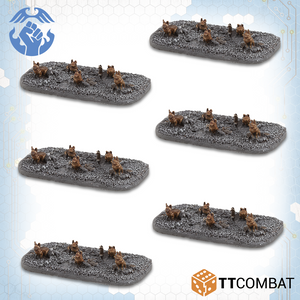 Resistance cells often have to make do with the equipment they have available. Sometimes it's more effective to keep the vehicles you do have operational than to find operational vehicles you don't have.
The Resistance have plenty of access to vehicles that they can convert into all manner of technicals. The majority of these will end up as either Rocket or AA Gun Technicals, though a small amount will end up used for less destructive purposes. Repair Technicals are able to enact quick battlefield repairs, patching up armour and fixing minor battle damage.
During the Scourge occupation, many resistance bands continued to keep man's best friend. These K9 Attack Units are the mongrel descendants of the purebred pets from days before the occupation. Kept in kennels affixed to K9 Technicals, they're unleashed upon the enemy in support of friendly troops.
Contains 6 K9 Attack Units and 6 Technicals that can be assembled as either K9 or Repair Technicals.
Resin miniatures supplied unpainted and unassembled. This kit will require cleaning and assembly, and could need some small holes filled. Any miniatures or scenery are shown for scale only and not included.