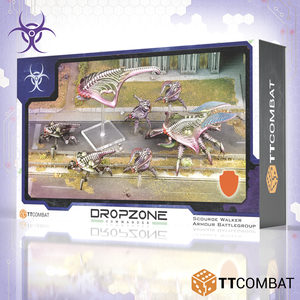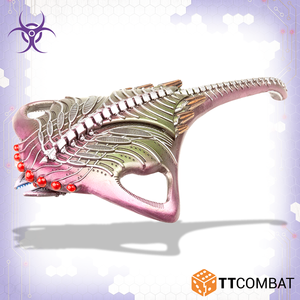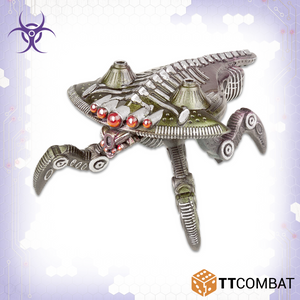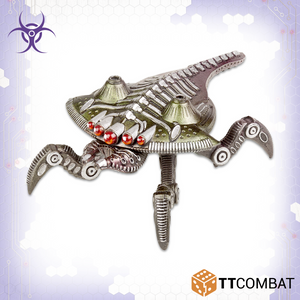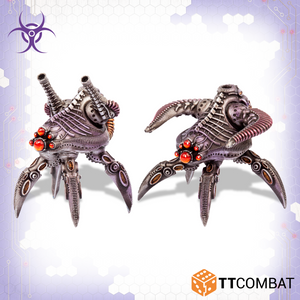 Scourge Walker Armour Battlegroup
While the Scourge are fully able to produce anti-gravity skimming vehicles on demand, UCM scientists believe that legged constructs are preferable for Scourge implantation despite their inherent drawbacks. 
An Armour Battlegroup is a staple in games of Dropzone Commander, and is a required choice in every army. This set contains all compulsory choices in the Armour Battlegroup, with Auxiliary units for support. This box is ideal for a new player - if you have a Starter Army, expand your force with this box.
Making the core of this Amoured Battlegroup is 2 Ravenor Laser walkers, these are equipped with Standoff Energy Clusters which can deal devastating damage to targets at close range. Alternatively they can be assembled as the Afflictor Hive Walkers, these project out pheromones' that attract swarms of insects that bog down any foolish enough to move through their swarm. The large support of the Battlegroup is the Subjugator Arthropod who slow down any nearby enemy units, it can also be built as an Oppressor Command Arthropod. The anti-air support comes in the form of 3 Ravager AA Beetles or can be made for anti-tank as the Stalker Beetle variant. Finally the battle group are transported in by a Harbinger Dropship.
Contains 7 resin miniatures and 1 clear acrylic flight stands.
Resin miniatures supplied unpainted and unassembled. This kit will require cleaning and assembly, and could need some small holes filled. Any miniatures or scenery are shown for scale only and not included.