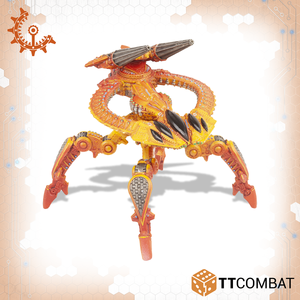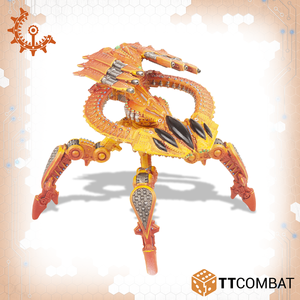 Shaltari Bobcat Warstrider
The Bobcat uses a leg layout identical to the walker variants seen in the Aaru theatre, though its use is much more widespread. Seen across multiple battlefronts, the Aaru leg design makes it a much more stable firing platform for its large weapon arrays.
Unlike the alternate versions of the Warstriders, the Bobcat is desinged to be a bulwark of heavy firepower. It can bring exellent Anti-Air with the Ion Cannon array, the high volume of shots and decent energy means that arial combatants must steer clear. 

Alternatively they can bring the Twin Gravity Cannon, a high energy anti-tank gun with devastator, meaning it can cripple the largest of vehicles. 
Contains 1 multi-part resin miniature with parts to arm it with either a Ion Cannon Array or a Twin Gravity cannon

Resin miniatures supplied unpainted and unassembled. This kit will require cleaning and assembly, and could need some small holes filled. Any miniatures or scenery are shown for scale only and not included.