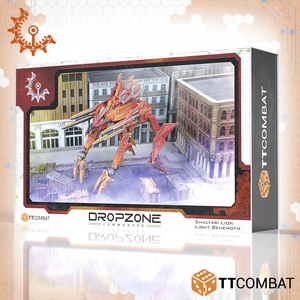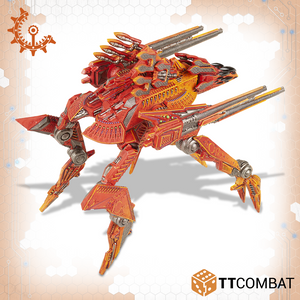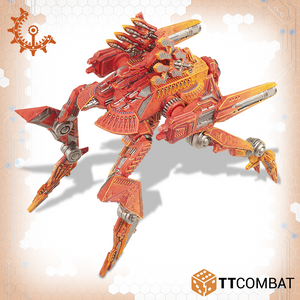 Shaltari Lion Light Behemoth
Several times larger than their more common cousins the Warstriders, Siegestriders were dubbed for their ability to clamber over or through the tallest defences. The most well-known forms are quadruped, although more accurately they have two legs and two arms.
The Lion variant carries possibly the most unusual weapon seen on the battlefields of the 27th century: The Transmatter Beam. It actually has two functions, the first being non-offensive. It can make use of the teleportation web technology built into friendly constructs to de-materialise and re-materialize these units anywhere in line of sight, even if they are far from a gate. The second, weaponised function is the result of firing such a beam at something without tapping into teleport web technology.
The Tiger carries a pair of Disintegrators - battlefield versions of the type of armament common on Shaltari starships. These weapons transfer huge amounts of energy to a very small area in crackling, split-second bursts. This causes devastating atomic effects, releasing further energies into the target. The appearance is of an explosive detonation that leaves an atomised, gaping hole behind.
Contains 1 multi-part resin miniature with parts to assemble as either a Lion Siegestrider or Tiger Siegestrider
Resin miniatures supplied unpainted and unassembled. This kit will require cleaning and assembly, and could need some small holes filled. Any miniatures or scenery are shown for scale only and not included.
Please note that Behemoths are massive kits, and advanced modelling projects. Extra care, attention, and hobby skills will be required to assemble and paint them. Because of that, this kit it is only recommended for advanced modellers. Some parts will need heating and bending to fit perfectly straight and slight gaps might need filling.