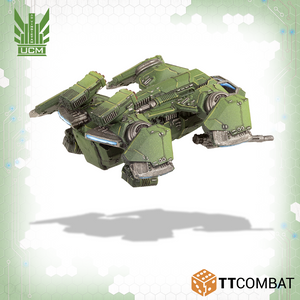 The Vulture has proven a reliable platform for the UCM, as more and more roll off the assembly lines, new variants are being created to fill potential niche's in combat doctrine. A pair of new aerial IFV's are currently being tested in both scout, and combat varieties. 

Vultures Gunships come armed with two Twin Cannons, identical to the variants mounted on the Katana light tank, this gives the gunship respectable anti-tank firepower. The optional AA Battery gives the Vulture further versatility, allowing it to take on other aircraft. Alternatively, this kit can be assembled to make the Buzzard Aerial Target Craft, it loses out on one twin cannon, however is now a scouting vehicle. This gives it great versatility, allowing it to spot for units firing indirectly, as well as extend your commander's sphere of influence.
Both of these variants are set on the Vulture ship chassis, giving it good durability and high speed. It is also able to transport two troop units, allowing for high response board control. 
Contains 1 multi-part resin miniatures with parts to make a Vulture Gunship or a Buzzard Aerial Target Craft. Also includes parts to arm both with AA Batteries.
Resin miniatures supplied unpainted and unassembled. This kit will require cleaning and assembly, and could need some small holes filled. Any miniatures or scenery are shown for scale only and not included.