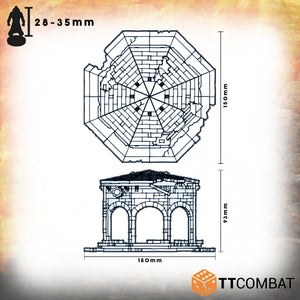 "Platform now silent, the ruined bandstand sounds of music no more."

The Pavilion Bandstand is a small kit designed to be set dressing and add a bit of visual interest on your larger savage domain layouts.
The Bandstand is made from 3mm MDF. It is a great scenery kit to use in fantasy skirmish games as well as roleplaying games, and will work perfectly with 28-32mm games and miniatures.
Model supplied unpainted and requires assembly. We advise using PVA glue for the best results. Any miniatures are for scale only and not included.