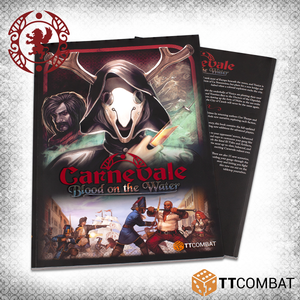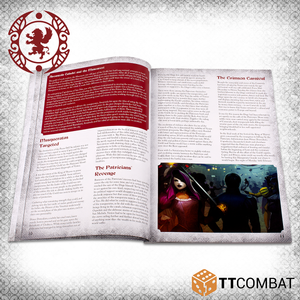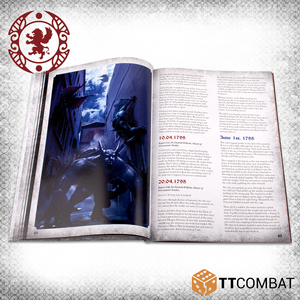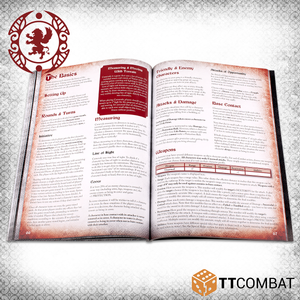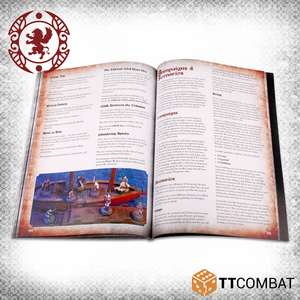 Two years after the Rent in the Sky tore open the heavens and sank most of Europe beneath the waves, and Venice is on the verge of greatness. 1795 is set to be a big year for the residents of La Serenissima, but plans for a new bridge are halted when a colossal explosion rocks the city.

Toiling away in secret, the various groups and factions that inhabit the underbelly of Venice are plotting their next moves. From the Guild sabotaging the newly resurgent Arsenale and Venetian fleet to the Doctors of the Ospedale trying to conquer death itself. And further afield there are demonic beasts clawing up the forts of Malta as the sea seeks to reclaim the island. Tensions are high, violence is imminent, and the City of Canals will never be the same again.
Blood on the Water is Carnevale's first campaign expansion book. Written by returning authors Gav Thorpe and Lewis Clarke and joined by David LaPorta, this book introduces a whole new narrative, exploring each faction.
In addition to a wealth of new background story, this book contains the full updated
Carnevale rulebook, including new additions for advanced players.
With Reactions to your opponents' moves, Advanced Acrobatics, and ways to customise your gang like never before with the fated Ill Tides and Artifacts, this is the most up-to-date, balanced, and exciting Carnevale ruleset ever.
There are also 15 new scenarios, guiding your gangs through the story and letting you fight this new era out on the tabletop yourselves.
At 112 pages, this softback book is every Carnevale player's dream. Filled with beautiful new art, fully updated rules and the next chapter of the story, it really has everything you could need.