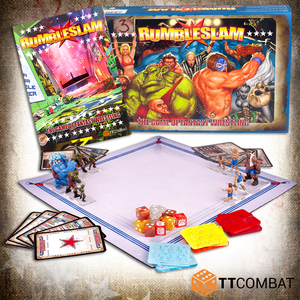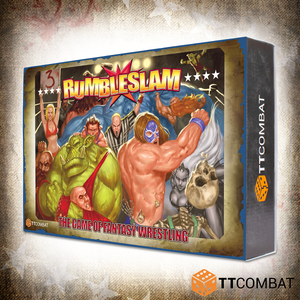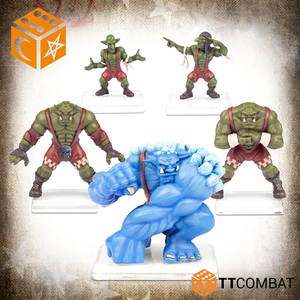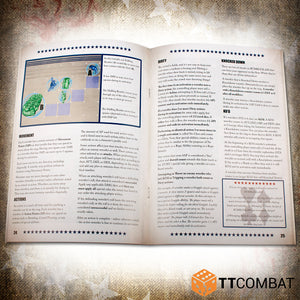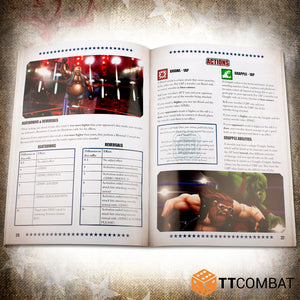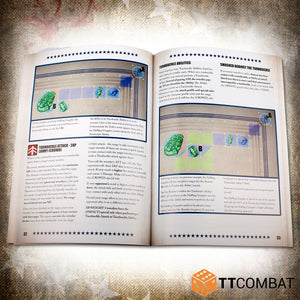 RUMBLESLAM 2-Player Starter Box
WELCOME TO THE RING!
THE LIGHTS ARE UP, THE ROPES ARE TIGHTENED, AND THE CROWD ARE CHEERING. LET'S GET READY TO RUMBLESLAM! 
RUMBLESLAM is the original fast paced fantasy wrestling game for two or more players. It's easy pick up, tricky to master, and lasts around 45 minutes.
RUMBLESLAM wrestlers step into the ring to brawl, grapple, leap from turnbuckles, showboat, and bounce around the ring. Pinning your opponents or throwing them out of the ring is the aim of the game, with no small amount of black eyes for good measure!
This boxed set has everything you need to get started in the ring of RUMBLESLAM. The set includes a second edition rulebook with brand new tweaks and changes, including brand new tripping and pinning rules! There are two teams of intricately sculpted single-piece miniatures, character cards showing their full abilities, custom dice, tokens, and even a neoprene ring mat to play on!
With an emphasis on fast gameplay that gets you stuck into the fight immediately, you'll find loads of moves and inspiration taken directly from the squared circle. From bouncing off the ropes all the way to getting sponsored by Orka-Cola and summoning the power of the crowd, RUMBLESLAM is designed for quick and intense matches on a small board. Perfect for playing at the end of a games night or in the pub!

This set contains literally everything you need to get started in RUMBLESLAM:

10 unique resin miniatures – two teams are in the set: the Heavy Pounders and Green Bruisers. Humans, Halflings, and an Ogre are reliable and beginner-friendly, and the Goblins, Orcs, and Troll are a wild bunch that can go very wrong or VERY right! These miniatures are all one-piece, meaning you can get playing with minimal assembly time.

RUMBLESLAM 2nd edition rulebook – the complete 48-page book filled to the brim with wrestling fun! There are sections on each casino in RUMBLESLAM, and plenty of gorgeous pieces of artwork. This new edition makes several key tweaks to gameplay to give a more well-rounded experience and make every wrestler as useful as the next. Plus fan-favourite pinning rules are here!

Neoprene ring mat – Able to roll up and unfold without any creases, this mat is the best way to get playing the game. With squares marked on and a rich design, you'll find it easy to transport and even better looking to play on.

10 character cards – These have full stats for all wrestlers accompanied by their beautiful art (although those Orcs are far from beautiful!). Each has their own set of skills and a unique Crowd Pleaser - use these when the crowd are cheering to summon hidden powers and strength!

Dice & counters – 16 custom dice to use for RUMBLESLAM's tiered skill system. A Silver dice is better than a Copper, and a Gold dice is best of all! The Crowd dice are adorned with Cheers and Boos, which change depending on how the fans feel about you! There are also 64 acrylic counters to help keep track of who has extra AP, whose Crowd Pleaser is active, and who is bleeding, among others!
Contains 10 resin miniatures and 10 clear acrylic bases. Acrylic bases will have coloured film on that needs removing before assembly. Miniatures supplied with square bases.
Resin miniatures supplied unpainted and unassembled. This kit will require cleaning and assembly, and could need some small holes filled.
*Due to demand, Ring mat may vary between clean and stained surface design.