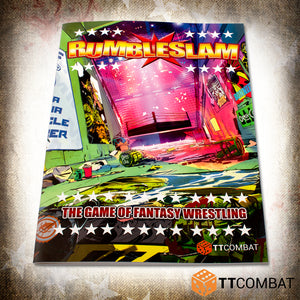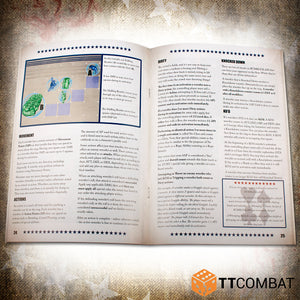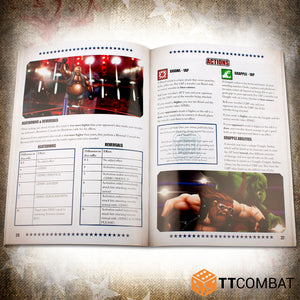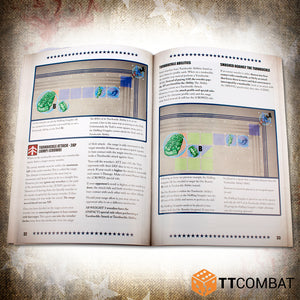 Welcome to the world of RUMBLESLAM - the original game of fantasy wrestling!

The seats are packed, the lights are bright, and the atmosphere is thick in the RUMBLESLAM casinos. Dwarfs, orcs, elves, humans, ogres, and many more will step into the ring, but only one team will stay in there!

Get ready grapple, clothesline, punch, kick, jump from the turnbuckle, and rally the crowd behind you on your way to victory.
In this fast-paced, action-packed game you'll experience the highs and lows of
professional wresling, using skill, speed, power, dirty tricks, and maybe even a little bit of magic* to overcome your opponent and expel their wrestler from the ring!
Written by Lewis Clarke, this book contains everything you need to get stuck into the fight, including history of the sport and casinos, and full rules for building your team and wrestling to victory in the hallowed rings of RUMBLESLAM!
This new edition of the rulebook also adds in new rules including fan-favourite pinning - a brand new way of taking your opponents out of the game!
At 48 pages, this helpful book contains everything you need to get playing games of RUMBLESLAM. With a short story section you'll find out about the origins of the sport, as well as sections on the five major casinos - where all RUMBLESLAM wrestlers fight.
The rules of the game are easy to pick up but hard to master. From bouncing off the ropes to slamming opponents with a devastating turnbuckle attack, you'll find all actions laid out and aided with diagrams to help you learn. Every wrestler has unique abilities and Crowd Pleasers, which mean that building synergy in your teams will keep you playing for a long time.

The book has rules for sponsorships, tag teams, and multiplayer matches, as well as a full list of special rules and a quick reference section as well.
The whole book is printed in full colour, with gorgeous artwork and photos on each page helping to set the tone of the game - it's RUMBLE MADNESS!
*Magic is strictly** outlawed in RUMBLESLAM.
**Not very strictly.