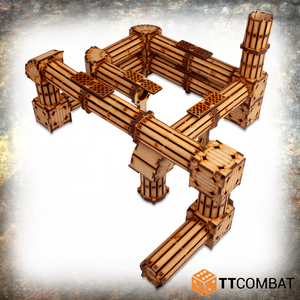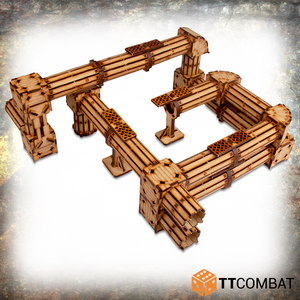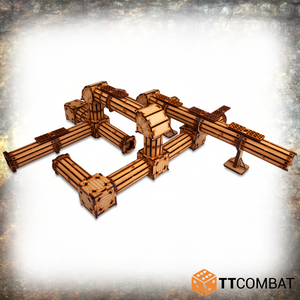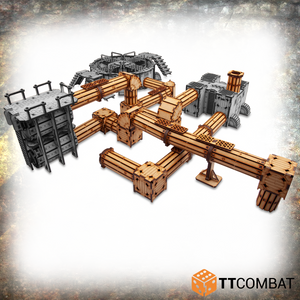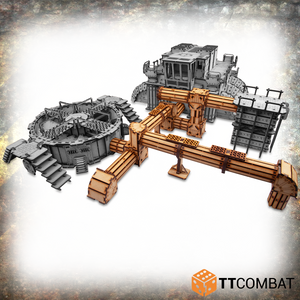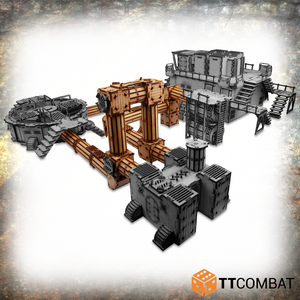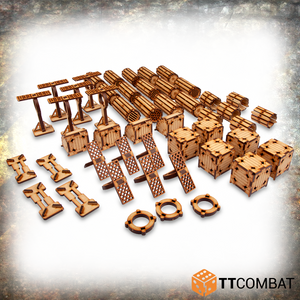 "If you got liquids or semi-liquids that you gotta need transporting. Our Industrial Sector Pipelines got you a-o-covered. They'll transport your oil, your water, coolant, radioactive waste, regular waste, and all other kinds of junk. If you need what pipes we got, call us on 0118-999-PIPES!"
The Sector 4 - Pipelines contains numerous sections of pipes as well as connectors that allow you to make a large sprawling network of interconnected pipes. Perfect for those games that need a more industrial or futuristic feel.
The set is completely modular, allowing you to build your pipe network in thousands of combinations. With long pipes, short pipes, two types of hub connector (each completely stackable) with loads of attachment points, connectors to create longer pipes (both with and without walkways along the top), and end caps, this kit does a lot of work!
The pieces of the Pipelines have been designed to easily pop together, meaning they don't need gluing so you can use them for different builds each game. Alternatively you can stick them together, making a strong and sturdy pipe network.
The Sector 4 - Pipelines are compatible with all the other Industrial Hive kits, and every kit in the Sector 4 range has points to connect them, meaning you can make a sprawling network between buildings, pipe hubs, and more! They're also designed to fit well with the rest of the Industrial Hive range, stacking vertically to the same height as the other kits, meaning cross-builds are easy and effective.
The set contains:
14 pipe sections

6 small pipe sections

6 hub blocks

4 curved hub blocks

6 raised connectors

6 lower connectors

3 end caps

4 spacers
This kit is made from 3mm MDF, easy to put together and looks great on the tabletop. Great scenery to use with modern and futuristic 28-35mm wargames.
Model supplied unpainted and requires assembly. We advise using PVA glue for the best results. Any miniatures are for scale only and not included.
WIDTH
DEPTH
HEIGHT
Pipes

3.2cm

8cm

3.2cm

Connector Blocks

4cm

4cm

4cm

Instructions
Download