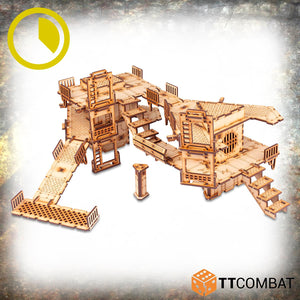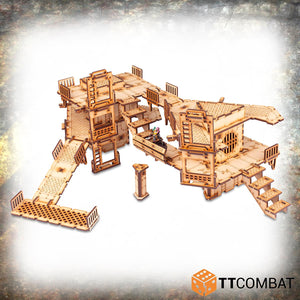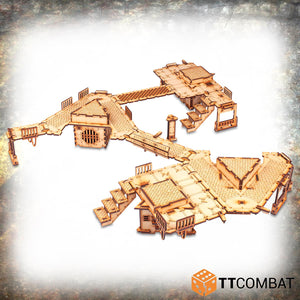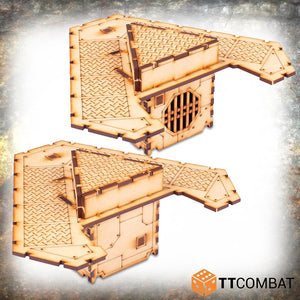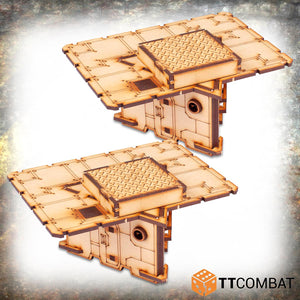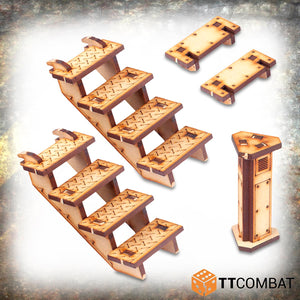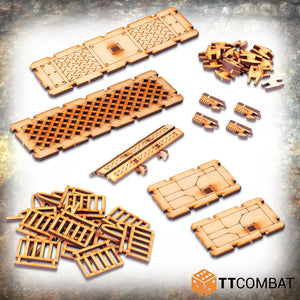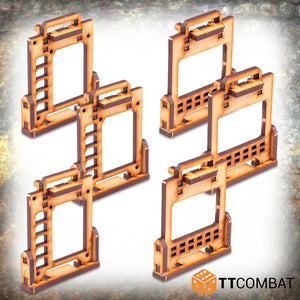 "A mismatch of hobbled hovels sits precariously on top of one another in this ramshackle prefab hive city. Cables hanging from every surface as the denizens struggle for basic amenities amongst the smog..."
The Sector 2 - Slum Shanties set contains four individual pod buildings, stairs and various walkways to connect them.
The set is completely modular, allowing you to build your own shanty town in any way want. The buildings stack on top of one another as well as being able to connect side by side with the walkways, giving you the choice to build tall or build wide. The hab-pods have been designed with playability in mind, there is enough room on the gantries to move your models around with the angles of the buildings providing cover as well as adding to the warren like feel of this kit.
The Sector 2 - Slum Shanties are compatible with all the other Industrial Hive kits, and the buildings in every kit in the Sector 2 range are stackable and connectable, meaning you can make a sprawling network of buildings, sky scrapers and more! .
The set contains:
2 Square platforms with a Triangular base

2 Triangular platforms with a square base

2 Stair sections

1 Pylon

2 Large platforms

2 Small platforms

12 Railing clips

1 Barricade

6 Modular supports

4 Lamp clips
This kit is made from 3mm MDF, easy to put together and looks great on the tabletop. Great scenery to use with modern and futuristic 28-35mm wargames.
Model supplied unpainted and requires assembly. We advise using PVA glue for the best results. Any miniatures are for scale only and not included.
WIDTH
DEPTH
HEIGHT
Triangular Blocks


21cm

18.4cm

11cm

Instructions
Download