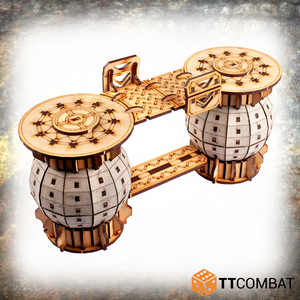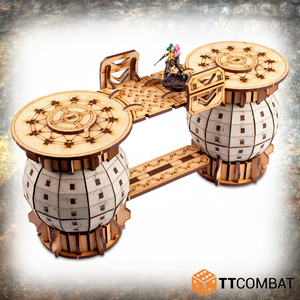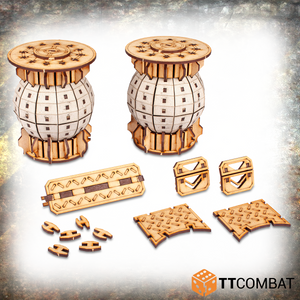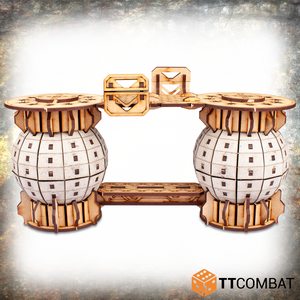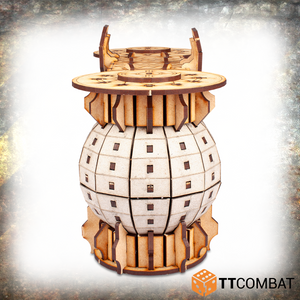 Sector 3 - Sphere Couplet
Those are some balls you got there!
The Sector 3 - Sphere Couplet contains - unsurprisingly - two spheres! These wonders of MDF design are a true marvel, and excellent for your games too! The kit contains two small platforms to attach to them, as well as an optional power conduit to run between and two barricades, offering decent cover to anyone behind. The spheres are completely stackable too, able to be used on top or underneath any other bits in Sector 3.
All Industrial Hive kits are designed to work together, utilising an innovate clip system to enable every piece to attach to another. Using the in-built modularity you can attach stairs to walkways to platforms to offices to pipes to silos to walls all in a continuous mass of metal (well, MDF) to make your games in the sprawling Industrial Hive more fun than ever.
This kit is made from 3mm MDF and 1mm greyboard and has been designed for sprawling games of 28-32mm gang warfare set in a dense jungle of machinery.
Model supplied unpainted and requires assembly. We advise using PVA glue for the best results. Any miniatures are for scale only and not included.
WIDTH
DEPTH
HEIGHT
Dimensions

279mm

100mm


120mm

Instructions
Download