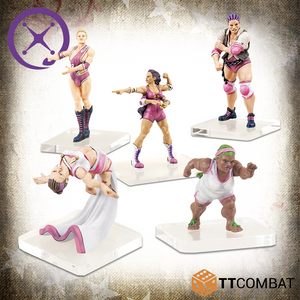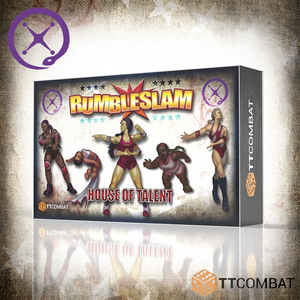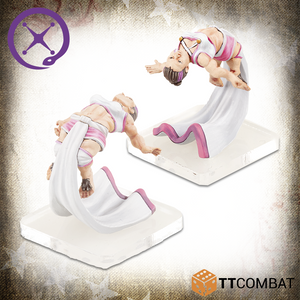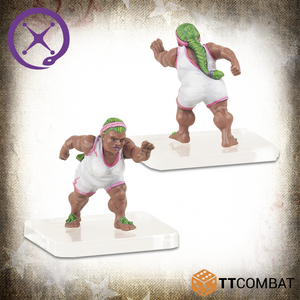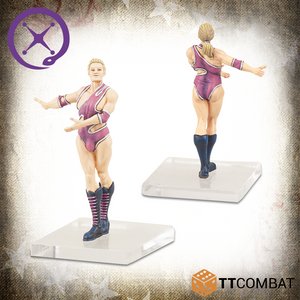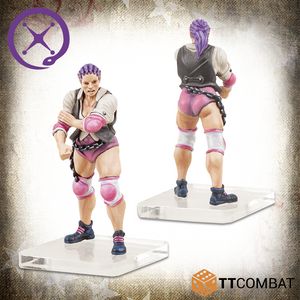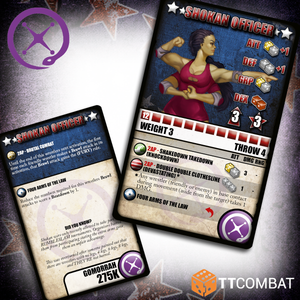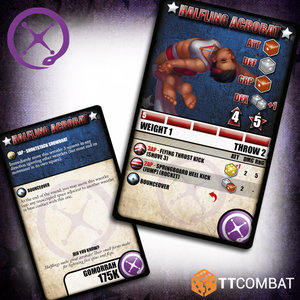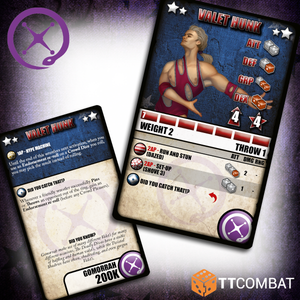 Not every RUMBLESLAM team plays fair, but the House of Talent have no
need for underhanded tactics (unless you count the Shokan's second pair of arms underhanded). When this by the book, versatile team plays to the crowd, they'll knock your socks off!
The Halfling Pinner is a stout wrestler who you don't want to underestimate, her Expert Ground Game means she rolls silver when making pinning checks, meaning she is lethal on the ground. The Halfling Acrobat can be seen to be, what seems like, flying around the ring. With great precision she can expertly jump from rope to rope, turnbuckle to turnbuckle, clearing the tallest wrestlers.
Keeping the match fair, the Enforcer is making sure wrestlers aren't repeating moves and when they do she's waiting to deliver a mean swing. Coming in with the opposite energy is the Valet Hunk, this heater will hype up the crowd, never has there been hype machines like this guy. 
Last but not least the Shokan Officer, 4 arms is always better than 2. An expert grappler that will knockdown the biggest of wrestlers, as well as impressive flying skill that will hit all nearby. Years in the ring, with the crowd hyping you up makes you a Brutal Combatant. 
Contains 5 resin miniatures with 5 clear acrylic bases, and 5 character cards. Acrylic bases will have coloured film on that needs removing before assembly.
Resin miniatures supplied unpainted and unassembled. This kit will require cleaning and assembly, and could need some small holes filled.