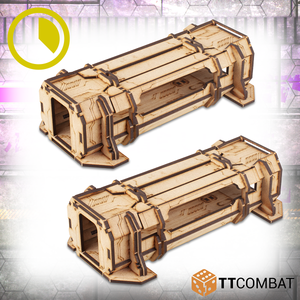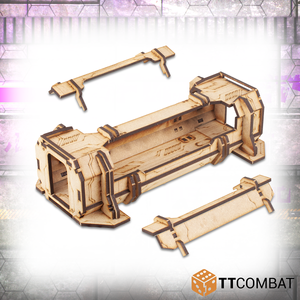 "Some of the oldest cities' inhabitants have created different pathways to the older layers beneath them. The tunnel networks are so efficient that descending through the levels is now completely unnecessary."
Do you really want to step outside into hostile territory? Of course not. Tunnels are the solution. Covered traversal walkways that can connect a sprawling network of M.U.L.E cores to each other. 
The M.U.L.E Tunnel kit consists of 2 tunnels and is made from 3mm MDF. It is a great scenery kit to use in Sci-Fi skirmish games, will work perfectly with 28-32mm games and miniatures, and look great on any Sci-Fi inspired game board.
Model supplied unpainted and requires assembly. We advise using PVA glue for the best results. Some kits may need filing for a perfect fit - always dry fit your models first for best results. Any miniatures are for scale only and are not included.