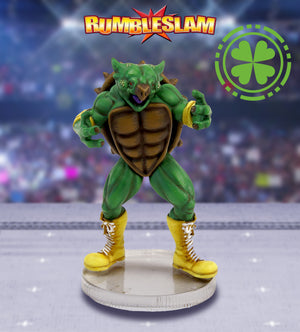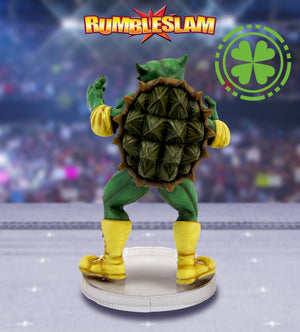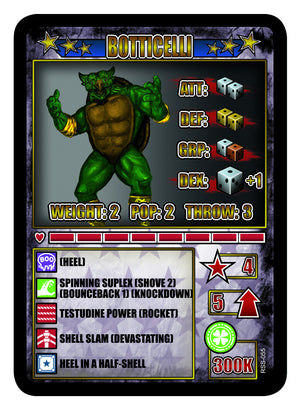 "People everywhere know about the great martial artist and superstar Toothpick. A fighter so deadly and calm even the bravest of wrestlers think twice before attacking him. Few people on the other hand know about his old pupil Botticelli. Botticelli - along with his brothers - was a prodigy, a brilliant fighter who studied hard and mastered techniques others could only dream of. But Toothpick sensed something inside him, something dark. When the young turtle was confronted with this information, he rebelled and spat harsh words at his master. So it was that he was exiled, kicked out of the dojo. The harshness of the punishment never left him and his mind turned to cruelty."
Our first non-Kickstarter wrestler is here. He's got natural toughness from his shell, and is quick to boot. Also, he's one of the only Heel wrestlers in the Forest Soul. With his high DEF value and the Heel in a Half Shell passive ability giving him re-rolls to Defence rolls, your opponent will be very put off even basic attacks! Keep him away from Grapplers though, or just use any of his many special abilities to get the drop on them!
Resin miniature supplied unpainted and unassembled with a unique character profile card and clear acrylic base. Note that clear acrylic bases may have a coloured peelable protective film. Miniatures supplied with square bases.