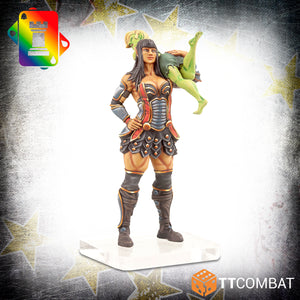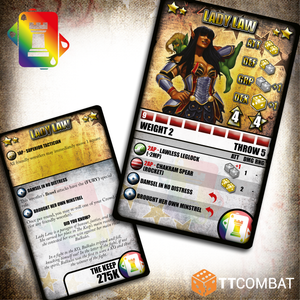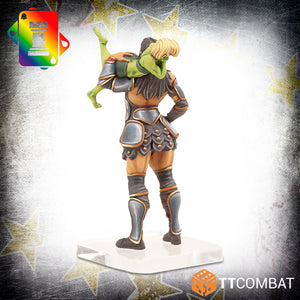 Lady Law is paragon of honour, justice, and honesty. She earned her place in The Keep's main roster after she contested her own win against her main rival Bulkules.
Lady Law is an honourable knight who packs a wallop in the ring. An impressive statline including double gold in ATT means she can swing with the biggest, the Fury rule on top of this means the damage from Lady Law is off the chain.
Lawless Leglock is a Grapple that slows an enemy right down, meaning they cannot escape from those heavy brawl attacks. The Chakram Spear can Rocket her across the ring, dealing crippling damage to any who are caught in her way. 
Her Crowd Pleaser Superior Tactician, allows all friendly wrestlers to move a single square, this aids with manoeuvring and makes it hard for your opponent to pin your wrestlers down. Lady Law has also Brought Her Own Minstrel, this allows a single re-roll on a Crowd dice per round, for any friendly wrestler. 
Contains 1 resin multi-part miniature with square acrylic base.

Resin miniature supplied unpainted and unassembled. This kit will require cleaning and assembly, and could need some small holes filled. Note that clear acrylic bases have a peelable protective film. Miniatures supplied with square bases.