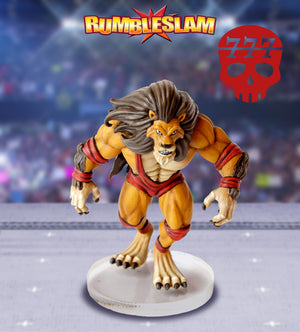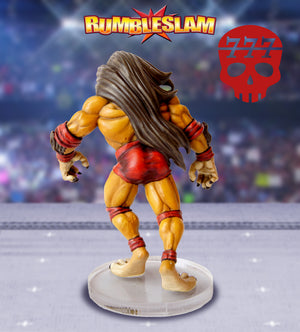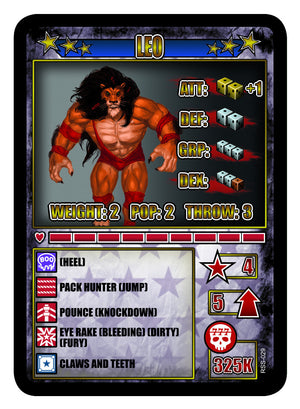 "Well known for his ferocity and short temper within the ring, this superstar is a wrestler every fan loves to hate. The image of Leo prowling down the aisle is a chilling sight indeed, and even the bravest of wrestlers back up a step when face to face with him. Leo's flesh ripples with every step he takes as the thick muscles of his body contract and relax beneath the skin. His proud features are bordered by a heavy mane of brown fur full of intricate braids."

Are you playing a Feral Den team and feel you need a bit more offensive capability? Seriously? Well okay, just take Leo.
He's got an amazing ATT value, and a whole load of great attacking moves. If you think you can successfully pass Dirty rolls, then Eye Rake does 2 Damage, Bleeding, AND has Fury. And thanks to Claws and Teeth, all of Leo's Brawl attacks do 2 Damage too! That's a lot of damage, and that's only scratching the surface of his skills!

Resin miniature supplied unpainted and unassembled with a unique character profile card and clear acrylic base. Note that clear acrylic bases may have a coloured peelable protective film. Miniatures supplied with square bases.