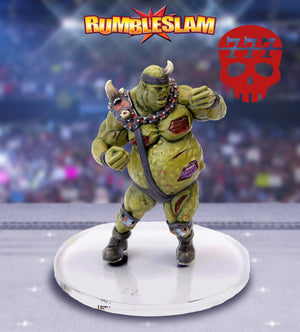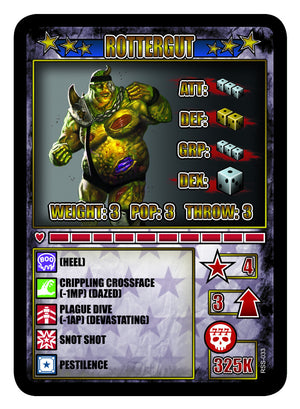 "The Lord of pestilence & plague, Rottergut. Easily the most disgusting wrestler to have ever entered the ring, this rotting being brings decay and filth where ever he treads. All wrestlers set to fight this mass of contagious infection are required by Rumbleslam law to be vaccinated prior. Rumour has it that every virus, disease and bacteria known to man is contained within this putrid superstar's body. During his matches, the crowd is pushed back several rows to ensure his aura of malady doesn't touch them!"
With all those special abilities, where do we start? Rottergut is all about crippling the enemy. He piles on the counters, stopping the opposing team in their tracks. His Crowd Pleaser gives every enemy wrestler a Bleeding counter. His Snot Shot gives every enemy wrestler within 2 squares -AP AND -MP counters, and his Pestilence Passive Ability increases the -1 on his other abilities to -2! He really bogs everyone down.
A disgusting mass from The Feral Den, Rottergut is at home with The Raging Beasts, but works equally well with a balanced team that will really benefit from his disruptive counters.
Resin miniature supplied unpainted and unassembled with a unique character profile card and clear acrylic base. Note that clear acrylic bases may have a coloured peelable protective film. Miniatures supplied with square bases.