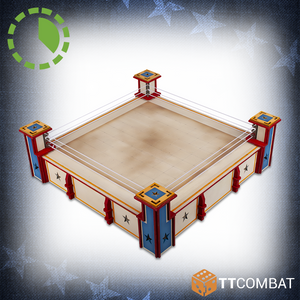 The fabled squared circle has never looked so good as this! Whether you are a rookie or a Superstar, you'll find fame within this ring.
The RUMBLESLAM Rookie Ring is the perfect starting point for any serious Rumbleslam fan!

The ring itself is perfect regulation RUMBLESLAM size, with 100 squares in a grid for your wrestlers. Easy to build, you can get playing in no time. With removable turnbuckles you can put any neoprene RUMBLESLAM mat on top of the ring and then add the turnbuckles on top of that. Instant great looking ring!
The set also comes with three lengths of elastic nylon cord which make great ropes. Simply tie them together and slot them into the turnbuckles. The slots are open, which means you can take the rope off when packing it away too.
This kit is made from 3mm MDF.
Model supplied unpainted and requires assembly. We advise using PVA glue for the best results. Any miniatures and neoprene mats are for scale only and not included.