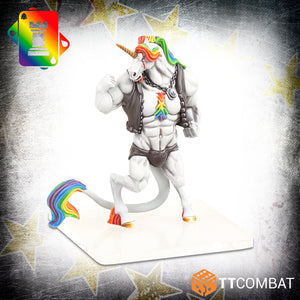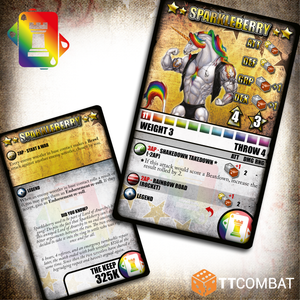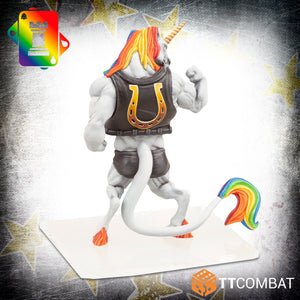 Sparkleberry used to be part of Lord of Anarchy's biker gang! Despite the fact that Sparkleberry can't drive. This annoyed Lord of Anarchy to no end causing many bitter arguments between the two. The two eventually decided to take it into the ring to settle who was right once and for all.
Rainbows...Rainbows everywhere, bringing the colours to the ring is Sparkleberry and he's a fan favourite. His stats are no different with Gold, Silver and Copper in ATT and DEF. It continues with Copper ,+1 (in gold of course) in GRP and DEX. 
The theme continues with Sparkleberry's moves. Shakedown Takedown is an epic grapple with it's own special ability. If it scores a Beatdown the roll is increased by 2. Sparkleberry's signature move is Rainbow Road, the crowd go wild when he flies across the ring from this rope attack. 
Sparkleberry has a passive ability that sums him up to a tee...Legend. This rule means if an enemy wrestler in base contact rolls a zero result, you can gift them an endorsement re-roll, however for each one they take you gain one. Sparkleberry will use his Crowd pleaser and Start a War, this makes every enemy wrestler in base contact make a Brawl attack against another enemy wrestler.  
Contains 1 resin multi-part miniature with square acrylic base.

Resin miniature supplied unpainted and unassembled. This kit will require cleaning and assembly, and could need some small holes filled. Note that clear acrylic bases have a peelable protective film. Miniatures supplied with square bases.