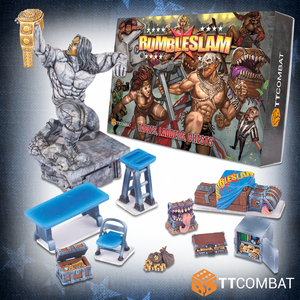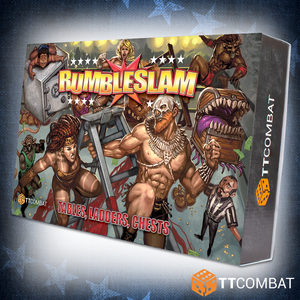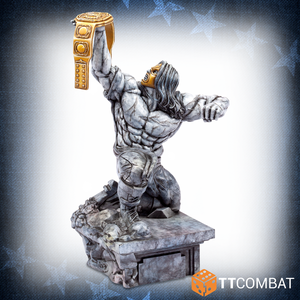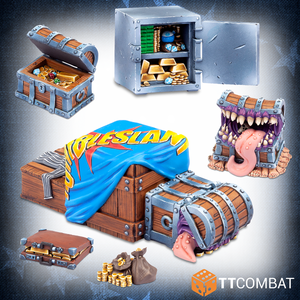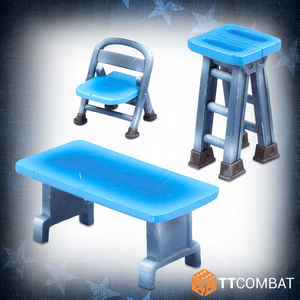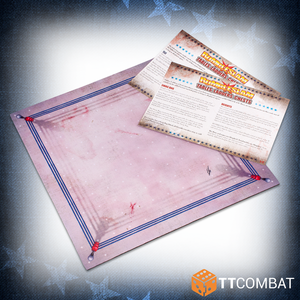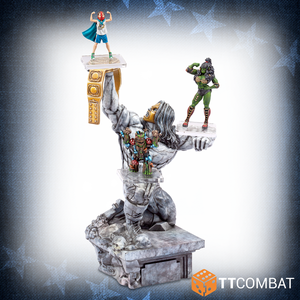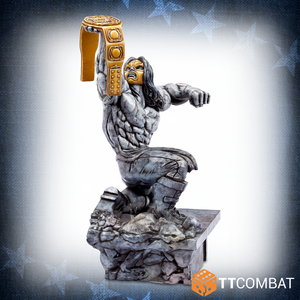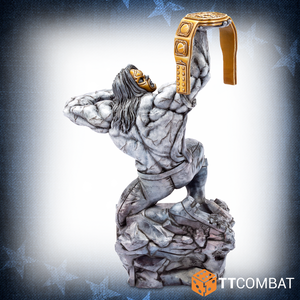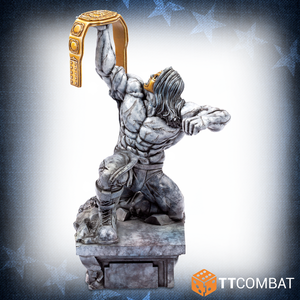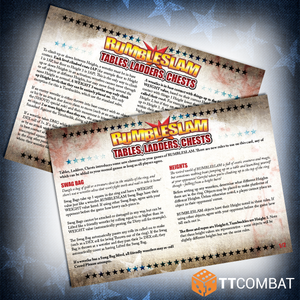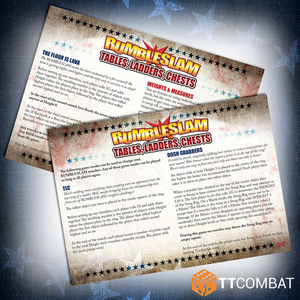 CLIMB UP HIGH AND GRAB THAT DOSH!
It's time to get paid! RUMBLESLAM rings worldwide are piling up the scenery and getting HARDCORE!
Tables, Ladders, Chests is an expansion for RUMBLESLAM which introduces brand new ways of fighting in the ring. Using multiple levels, wrestlers can climb to the top and launch themselves onto their opponents, or throw a +1 Steel Chair at that skeleton trying to sneak up on them.
Wrestlers can earn a bit of cash playing the Dosh Grabbers mode, where your payday is being thrown around the ring. Maybe it's in a briefcase, a safe, or - if you're particularly unlucky - an angry Mimic!
This box is bursting at the seams with scenery, dosh piles, a podium, rules, and a giant statue of the legendary Rumblesam! There are rules included to allow you to fight over various levels, even up to the top of the statue. And there are even three game modes to play: TLC, Dosh Grabbers, and The Floor is Lava, where the floor is literally lava!
This expansion box is designed to be used with the RUMBLESLAM base game and includes:
1 CHAIR, LADDER & TABLE
1 PODIUM
5 PILES OF DOSH
1 RUMBLESAM STATUE
1 NEOPRENE GAMING MAT
RULES CARDS WITH 3 GAME MODES
Contains 10 resin miniatures with 4 clear acrylic bases, 1 neoprene mat, and 2 rules cards. Acrylic bases will have coloured film on that needs removing before assembly.
Resin miniatures supplied unpainted and unassembled. This kit will require cleaning and assembly, and could need some small holes filled.