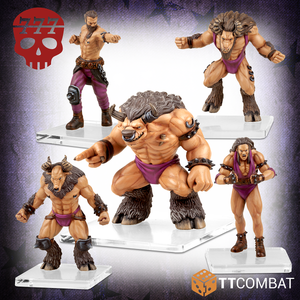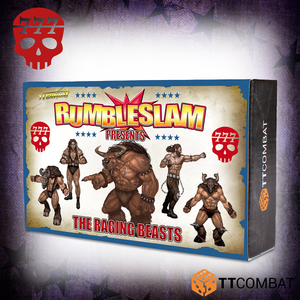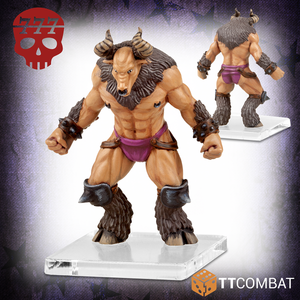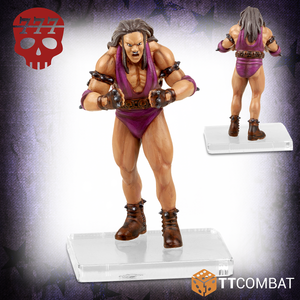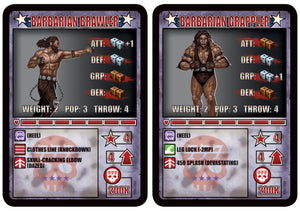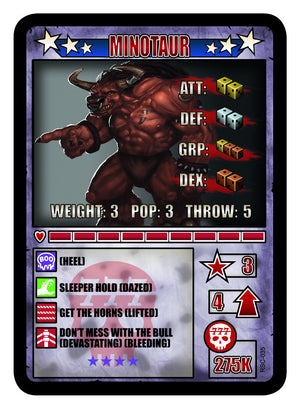 The crazies of the RUMBLESLAM arena. As violent as they are unpredictable, The Raging Beasts are an extremely strong team when directed in the right way! Unsurprisingly The Feral Den is their home, and they make an excellent choice for adding a little power.

Goatman Brawlers and Goatman Grapplers are mad. Absolutely nuts. They have very high attack stats, and very low defence stats. Lots of stamina means they won't quit the fight early either. Just watch out for their Frenzied ability, which sees them running head first into the enemy with no thought for tactics.

Barbarian Brawlers and Barbarian Grapplers are damage dealing machines! They hit harder than their good counterparts, and although they only activate Crowd Pleasers on a Boo result, the abilities are exceptionally strong.

What to say about Minotaurs? If you like the idea of a giant monster bouncing off the ropes and throw opponents out of the ring with its horns, Minotaurs are for you.

This box contains one of each: Goatman Brawler, Goatman Grappler, Barbarian Brawler, Barbarian Grappler, and Minotaur. All resin miniatures supplied unpainted and unassembled with unique character profile cards and clear acrylic bases. Note that clear acrylic bases may have a coloured peelable protective film. Miniatures supplied with square bases.