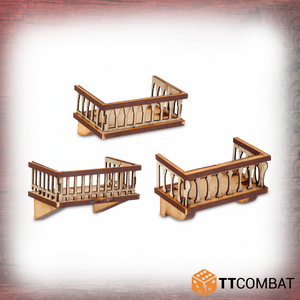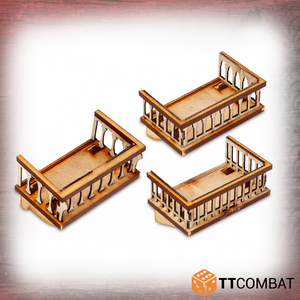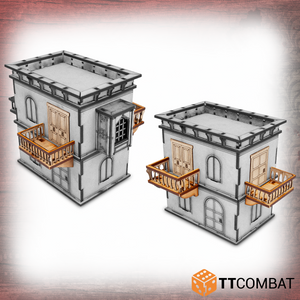 Whether it be to gaze upon the Rent in the Sky at night, to peer upon the poor fools in the street below, or as a stepping stone to that roof you know you can't reach in a single dexterity check, balconies are a part of Venetian life.
This pack contains 6 balconies in 3 different designs, along with a selection of doors and hatches that you can glue to wherever you need on your Venetian scenery.
These balconies fit on all buildings in the Streets of Venice range, and offer the perfect scenery for games of Carnevale. Simply stick them onto the side of any building to give the perfect place for a breather half way up, or to jump onto (land on the banister for a free jump).
Made from 3mm MDF and 1mm greyboard, these Venetian Balconies are great scenery to use on the tabletop for Carnevale and other 28-32mm games.
Model supplied unpainted and requires assembly. We advise using PVA glue for the best results. Miniature not included and for scale only.
WIDTH
DEPTH
HEIGHT
Dimensions
cm
cm
cm
Scale
28-32mm
Instructions
Download