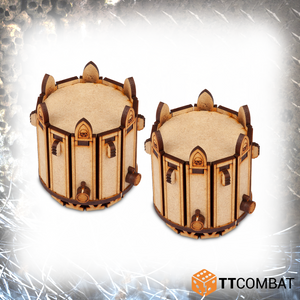 Armies march on their stomach, and with the high quality foodstuff your soldiers will be eating they'll need lots and lots of water to wash it down. Luckily with the Aqua Silo you'll have plenty of space for all kinds of water, or other, more flammable liquids.
The Aqua Silo is great scatter terrain and can be used on any table for battling in the far future. Made from 3mm MDF this kit is easy to put together and look great on the tabletop.
Models supplied unpainted and requires assembly. We advise using PVA glue for the best results.
WIDTH
DEPTH
HEIGHT
Dimensions
6cm
6cm
6cm
Scale
28-32mm
Instructions
Download