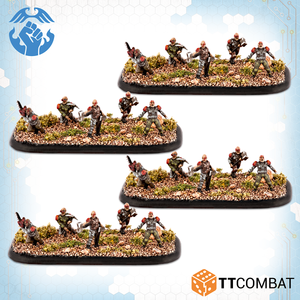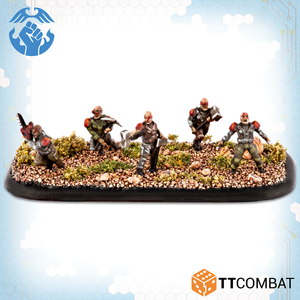 Berserkers are a ragtag collection of the most crazed, psychotic, homicidal maniacs present in the armies of the most savage of Resistance warlords. Often, they go to war in a drug crazed red haze, intent on nothing but the glorious release of murderous gluttony.
Well, what do you expect from a unit called "Berserkers"? These weirdos are the most elite of the Resistance's assault troops. Although "elite" might not be the right word, since they're not exactly easy to control. Armed with only Vicious Tools, they'll tear right through light infantry in combat, and are very good at dealing with heavy infantry too. Just don't ask them to find any Objectives - they aren't great at that.
Contains 20 single-piece resin miniatures with 4 plastic bases to make 4 units.
Resin miniatures supplied unpainted and unassembled. This kit will require cleaning and assembly, and could need some small holes filled. Any miniatures or scenery are shown for scale only and not included.